The report "Aquafeed Market by End User (Fish, Mollusks, and Crustaceans), Ingredient (Soybean, Corn, Additives, Fish meal, Fish oil), Additive (Antibiotics, Vitamins, Antioxidants, Amino acids, Feed enzymes, Feed Acidifiers), and Region - Global Forecast to 2022", The global aquafeed market is estimated to be valued at USD 107.82 Billion in 2017 and projected to reach USD 172.56 Billion by 2022, at a CAGR of 9.9% from 2017 to 2022.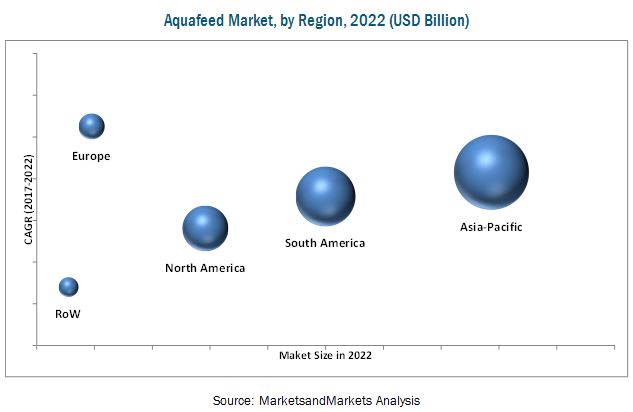 Amino acids is projected to be the fastest-growing segment in the aquafeed market, by additive
The use of amino acids in aquaculture diets help to provide aquatic animals with required nutrients to overcome dietary deficiencies. Amino acids are important in animal nutrition and are the building blocks of protein, which play an essential role in the growth, production, and overall maintenance of aquatic animal health. The utilization of modern feed management techniques and high awareness levels are the main factors responsible for the high consumption of feed amino acids in the growing markets.
Speak to Analyst: https://www.marketsandmarkets.com/speaktoanalystNew.asp?id=1151
Increased consumption of seafood and flexibility in using secondary raw materials key to success in the European region
High growth was observed in the European aquafeed market over the past few years. The main reasons for this growth is rising demand for aquafeed in European countries and increased consumption of seafood. Norway and Germany constituted the largest country-level markets in the European region in 2016.
This report includes a study of marketing and development strategies, along with the product portfolio of leading companies. These companies include Archer Daniels Midland Company (U.S.), Ridley Corporation Limited (Australia), Cargill (U.S.), Nutreco N.V (The Netherlands), and Avanti Feeds Ltd. (India); these are well-established and financially stable players that have been operating in the industry for several years. Other players include Purina Animal Nutrition LLC (U.S.), Nutriad (Belgium), Alltech (U.S.), Biostadt India Limited (India), Aller Aqua A/S (Denmark), Biomar (Denmark), BIOMIN Holding GmbH (Austria), Norel Animal Nutrition (Spain), Dibaq A.S (Spain), and De Heus Animal Nutrition (Netherlands).