Air+Mak the leading Aircraft Ground Support Equipment manufacturers of airport ground handling Equipment maintenance and the state of the art technology based on digital Ground Service Equipment on various Aircraft and Airport requirements for both civil and military aviation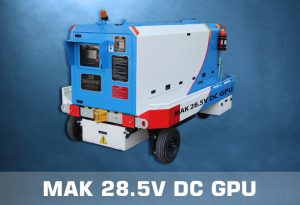 Ground Support Equipment for Aviation are the products used to support the operations of aircraft on the ground. The GSE product Ground Power Unit is used to supply power.
Air Start Unit is used to supply necessary amount of air at specified pressure to start aircraft engines. Air conditioning unit supplies cold or hot air into a parked aircraft.
GPU is used to give power to various aircraft systems and start aircraft engines by electric starter mechanism. AirMAK is a pioneer in digital 400 Hz Ground Power Units across the world and manufactures Industrial and defense applications since last three decades.