Air Start Unit for Sale :
Air+MAk Industries Inc manufactures and supplies Air Start Unit / Air Start Cart for Aircraft and Airport Ground Support Equipment Requirements.
Air Start Unit (ASU) is a ground support equipment equipped with pneumatic starter is used to start aircraft engines. It supplies necessary quantity of air at specified pressure through one/two or three hoses attached to the aircraft's under belly. We manufacture Air start cart Air start Unit, of Towable Trailer mounted, Skid mounted and Self propelled systems. The popular product variants are 100 PPM, 120 PPM, 180 PPM, 250 PPM, 400 PPM Air start unit, Air start cart and many more…
Our air start unit 400 PPM started the "world's largest aircraft engine" GE90-115B engine in 48 seconds, essentially equal to the standard on board 747 APU start performance. It is a very robust product that is superior to all other ground start carts & Air start cart , GPU Cart, available in theindustry today.
Air Start Unit for Sale :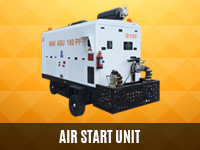 Please Contact us / Visit our Website
Air+MAK Industries Inc,
https://www.airmak.com/
11154, Wildwood Drive,
Olive Branch, MS 38654, USA.
Phone/Mobile: +1 662 893 3444
e-mail: info@airmak.com